Jerod Meagher
Jerod Meagher was born in Mobile, Alabama and began acting when he was attending the University of Kansas.
Acting roles include recurring roles on Banshee (created by Alan Ball) and Recovery Road (Freeform), as well as as appearance on Colony (USA Network). His feature work includes Mahjong and the West (directed by Joseph Muszynski), the lead role in the horror feature Apocalypse LA (directed by Turner Clay), the lead role in the award-winning Hell Week (directed by Emmy winner Patrick Rea) and a supporting role in the family feature Terminal (Never2Late Productions).
Jerod plays "The Keeper" in Guys Reading Poems.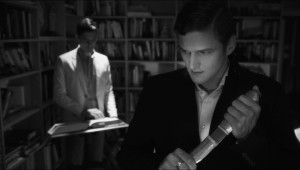 "We are commanded to seek out those who are lost. We are to be our brother's keeper." – Joseph B. Wirthlin
photo by Michael Marius Pessah
Pre-order the film on iTunes now!